Live Feed
Hello Lime Street Families,
Just a reminder that if you need assistance with your child's Chromebook, please email limesupport@hesperiausd.org
This goes straight to our tech support and someone will respond as soon as possible to take care of your concerns. Also make sure you keep your Chromebooks charged at all times. If the battery runs out, you may have to log your child back into their accounts.
Happy 2nd day of school!
Lime Street Elementary
1 day ago
Hello Parents,
Thank you for your patience while we work to address concerns about logging in to your Chromebooks and getting started. If you received a QR code on a piece of paper with your device yesterday, you will power on the device, connect to your wifi, click next. The camera should then open and you will hold up the QR code to the camera so that your student gets logged in . If you do NOT have the QR code/badge, then you will log in with your student's email address which will be their lunch number@husdstudent.com. The password will be their lunch number again. This should get you logged in so you can get started. If you are having trouble, please email limesupport@hesperiausd.org or you can find contact information for the teacher here: https://www.limestreetelementary.org/staff
Students will NOT be penalized for not attending the first day due to technical issues. Do not worry, we will get to everyone and get your issues addressed. Thank you for your patience.
Lime Street Elementary
3 days ago
Just a reminder parents that today between 12 -4 PM we are distributing Chromebooks to all TK/K and 1st grade students and any students who are new and do not yet have a Chromebook. Some students will also be receiving supplies from their teacher. There is a map on our website under "Live Feed" that will show you where to go to pick up your device. Please make sure you have a sign with your name, your student's name and their teacher's name in your car window. There will also be information sent out on our website later this afternoon on our website and Facebook showing you how to get logged into your Chromebook. Hope to see you soon!
Lime Street Elementary
4 days ago
Hello Lime Street Families,
Your child's teacher has sent an invite to join his or her Google Classroom to your child's student email account. If your child is in K, TK or 1st grade, parents should have gotten a text from teachers to join their SeeSaw classroom. If you are newly enrolled, this information will be coming from the teacher soon. Please log in to your student's email account to get connected with the teacher, the class and to see a welcome video. You can visit here: https://www.limestreetelementary.org/o/lime-street-elementary-school/page/frequently-asked-questions--116
to see videos on how to access SeeSaw and Google Classroom. If you have any questions, please reach out to your teacher. If you do not know your teacher, that information can be accessed via the Infinite Campus Parent Portal.
Thank you!
We are excited for school to start on August 6th!
Lime Street Elementary
5 days ago
Attention Parents of all TK, Kinder, and 1st grade students (as well as any students who are new to Lime and need to pick up a Chromebook):
We will be distributing Chromebooks for you tomorrow between 12:00 PM and 4:00 PM. You will pull into the parking lot, stay in your car and post a sign with the name of your child, their teacher's name, and grade level. We will bring you your Chromebook. Please see the map for further information.
Can't wait to see you!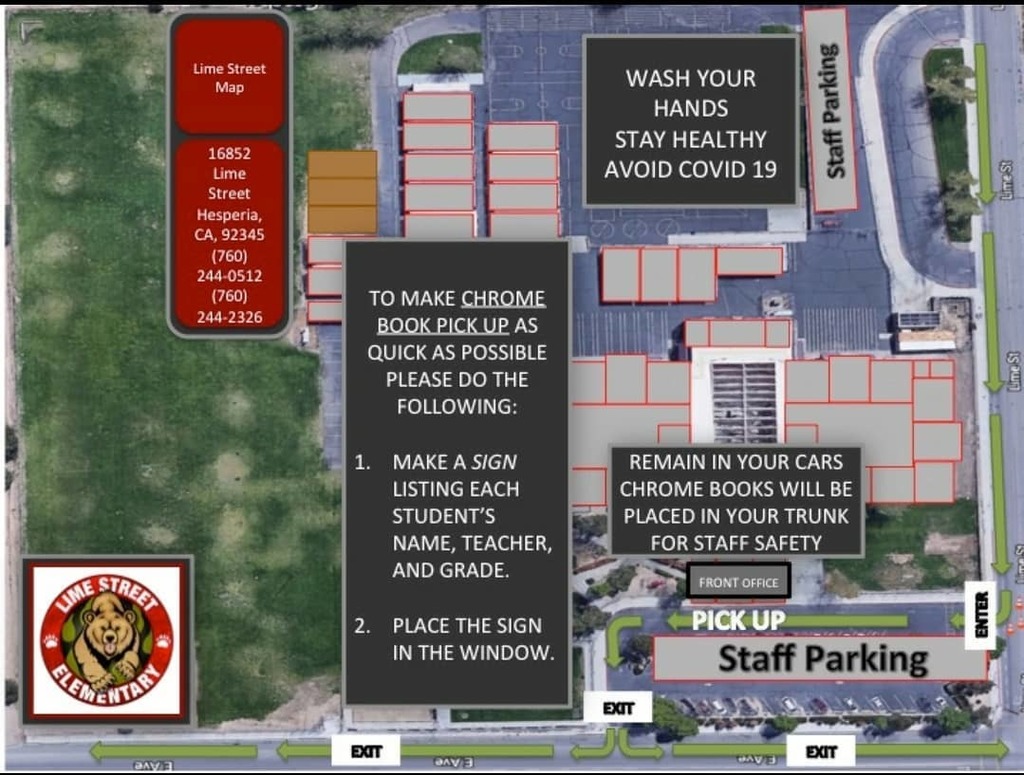 Lime Street Elementary
5 days ago
View All Posts »
CADistinguished School
LegoRobotics
VEXRobotics
Social Emotional Learning